COVID-19 UPDATES AND NEWS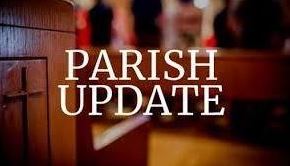 Normal Mass times have resumed:
Saturday evening at 5:00 pm.
Sunday at 7:30, 9:00, 10:30 and 12 noon.
The weekday Mass will be at 7:00 am daily.
The Miraculous Medal Novena and evenng Mass will be every Monday at 7:00 pm
Fr. Mike will celebrate an additional Mass Tuesday evening through Thursday at 7:30pm. All are welcome.
The daily expenses of the parish still continue to accumulate. Please consider donating online by following this link: Online Giving
You may also stream Mass here.
Click Here For Updates on OLOL 100th Anniversary
Confession Times
SATURDAY:
11:30 AM - 12:00 NOON
SATURDAY:
After 5:00 PM Mass

Announcements
CHRISTMAS in JULY Sale! We will hold our annual Christmas in July sale offering NEW and ATTIC TREASURES. School Auditorium doors will be open 9 AM-2 PM Friday 7/23 and Sat. 7/24. We are anxious to see you, please bring a friend and spread the word as we support our parish in it's 100th year.
Getting Back to Normal - Our Parish is in need of the gift of your time and effort and getting our parish ministries running again. We'd love to have a large number of readers, eucharistic ministers, ushers, singers, money counters and others to serve our Lord in one another. We'd love if you return to your former role or even start in a new ministry. Soon, we will be putting out a regular service schedule, so please let me know in person or email of your desire to help as soon as possible. Our deepest need is for CCD teachers. Email: edczarcinski@yahoo.com~ Fr. Ed ~
OLOL 100th Anniversary - We have a small group who has started preparing a commemorative book for OLOL's 100th Anniversary. This yearbook will include church history, historic photos, as well as current events and photos. The yearbook will show our centennial celebrations starting in Fall 2021 and closing out in September 2022. We are seeking additional volunteers who have had experience in preparing yearbooks. Please call Bernadette Olson at 732-828-6726 if you wish to help.