COVID-19 UPDATES AND NEWS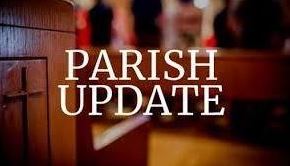 Normal Mass times have resumed:
Saturday evening at 5:00 pm.
Sunday at 7:30, 9:00, 10:30 and 12 noon.
The weekday Mass will be at 7:00 am daily.
The Miraculous Medal Novena and evenng Mass will be every Monday at 7:00 pm
Fr. Mike will celebrate an additional Mass Tuesday evening through Thursday at 7:30pm. All are welcome.
The daily expenses of the parish still continue to accumulate. Please consider donating online by following this link: Online Giving
You may also stream Mass here.
Confession Times
SATURDAY:
11:30 AM - 12:00 NOON
SATURDAY:
After 5:00 PM Mass

Announcements
Milltown Historical Society Honors OLOL on our 100th Anniversary
On Saturday December 11th, Milltown Historical Holiday Open House, scheduled for 11 am until 3 pm will welcome all guests and share how OLOL influenced the history of Milltown.
As we have read in our Journey Through the Years at OLOL, the Michelin Tire Company and their Roman Catholic families
lead to our establishment as a mission church and in less than 10 years, we became the parish of Our lady of Lourdes. We were named to honor the French immigrants and their home land and in thanks to the Michelin Company for their generosity.
The Milltown Historical Society would like you to celebrate our 100th Anniversary with the Milltown Museum, at 116 South Main Street, Milltown . Again the date is December 11th from 11 am until 3 pm. Come join us , see some and learn about the Michelin and Our Lady of Lourdes Parish.
If you have any interesting OLOL memories, please call Ann Marie Simons 732 -745-4694 or for the museum Barbara Wright at (732) 828-0822, so we can share your story!