COVID-19 UPDATES AND NEWS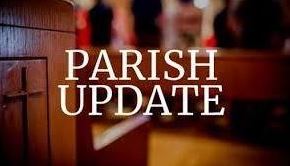 Normal Mass times have resumed:
Saturday evening at 5:00 pm.
Sunday at 7:30, 9:00, 10:30 and 12 noon.
The weekday Mass will be at 7:00 am daily.
The Miraculous Medal Novena and evenng Mass will be every Monday at 7:00 pm
Fr. Mike will celebrate an additional Mass Tuesday evening through Thursday at 7:30pm. All are welcome.
The daily expenses of the parish still continue to accumulate. Please consider donating online by following this link: Online Giving
You may also stream Mass here.
Confession Times
SATURDAY:
11:30 AM - 12:00 NOON
SATURDAY:
After 5:00 PM Mass

Announcments
Please check back often for 100th anniversary updates and news. Click on the anniversary logo on the home page or stay tuned on Facebook for all celebration announcments. The first of our new feature "Journey Through 100 Years" has been posted! Enjoy !
A note from Evey Lukach: After 45 years working at OLOL, I decided with all that's going on with the COVID virus and my age, it is time to retire. I sincerely thank the family of OLOL, it has been my pleasure to work with you all. I have found many good friends and acquaintances during those 45 years, especially since I only agreed to help Fr. Thul for 2 weeks. I was lucky to have great pastors and associates who became like family to me. I worked with many nice coworkers and wish them well. May 2021 bring us all the best our Lord has to offer.
***SCAM ALERT***
Several parishioners have received text messages purportedly from Father Ed asking to purchase gift cards for the poor. THIS IS A SCAM. Don't give them any money, but please let Father Ed know that you've received such a text. It is so sad that greedy people would take advantage of your kindness to the poor.