COVID-19 UPDATES AND NEWS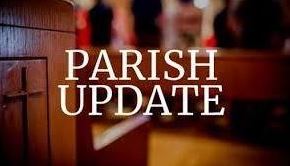 Normal Mass times have resumed:
Saturday evening at 5:00 pm.
Sunday at 7:30, 9:00, 10:30 and 12 noon.
The weekday Mass will be at 7:00 am daily.
The Miraculous Medal Novena and evenng Mass will be every Monday at 7:00 pm
Fr. Mike will celebrate an additional Mass Tuesday evening through Thursday at 7:30pm. All are welcome.
The daily expenses of the parish still continue to accumulate. Please consider donating online by following this link: Online Giving
You may also stream Mass here.
Confession Times
SATURDAY:
11:30 AM - 12:00 NOON
SATURDAY:
After 5:00 PM Mass

Announcments
Every Friday throught Lent we will join in the church for The Stations of the Cross at 7:00 pm.
The OLOL Knight of Columbus will host a "Spaghetti Take Out Dinner Night" on March 13th. The pre-order form is available in the bulliten and under the "Events" tab on the webpage. Please have pre-orders in by March 8th.
HONOR ST.JOSEPH - March is the month of St. Joseph. Honor him with prayer on Monday, March 8th at Our Lady of Peace Church, Route 130 in North Brunswick. Fr. Mike Fragoso, M.D. will speak on "St Joseph, Husband and Father". Fr Mike was married and a medical doctor before the death of his wife and ordination to the priesthood. Opportunity for Confession and Benediction will take place beginning at 7:00 pm.
EASTER FLOWERS OLOL Altar Rosary is again ordering Easter flowers for the altar. If you wish to order flowers, please call Kay Zinevich at 732-828-5986 or you can drop off/mail your order to the Rectory. The cost is $20 per flower and checks are payable to OLOL Altar Rosary.
LENTEN FOOD DRIVE Now is the time when our parishioners celebrate the Lenten Spirit of Giving to our neighbors in need of food. We are asking for contributions for our annual FOOD DRIVE on March 20/21. Please bring nonperishable items for distribution to local food banks. Your generosity is always appreciated.