IMPORTANT ANNOUNCMENT:
Father Mike will be away so there will be no 7:30 pm Mass from July 27th through July 31st.
The Rosarians will not meet at the church at 7:00 pm on Monday, July 27th for the Novena for this week only.
COVID-19 UPDATES AND NEWS
Dear parishioners,
Starting Saturday, June 13, we will be able to return to church for worship. To facilitate social distancing, we will follow the following schedule.
Saturday evening at 5 & 7 pm.
Sunday at 7,8,9,10, 11 and 12 o'clock.
The more services we have, the more we can guarantee safe distances. All of the services will NOT be Masses. Some will be Liturgies of the Word with Holy Communion presided over by our deacons. Which services are which will change from week to week, so Mass will be offered at various times.
We encourage you to practice social distancing and we encourage you to bring hand sanitizer for your own use.
IF YOU ARE SICK OR PHYSICALLY COMPROMISED IN ANY WAY PLEASE DON'T COME!
The bishop has dispensed us all from our Sunday obligation and this remains in effect. It is good to be able to hear God's Word and receive the Blessed Sacrament, but our Lord doesn't want you to endanger your health or the health of others.
Let us use the good sense God gave us and try to be patient with one another. Not everyone is able to attend Mass, but that doesn't stop our Lord from coming to YOU. Let us trust Him always to do what's best for us.
God bless you and I'll be seeing you (maybe)!
Fr Ed
~~~~~~~~~~~
The daily expenses of the parish still continue to accumulate. Please consider donating online by following this link: Online Giving
You may also stream Mass here.
​August is the Month of the
Immaculate Heart of Mary
Confession Times
SATURDAY:
11:30 AM - 12:00 NOON
SATURDAY:
After 5:00 PM Mass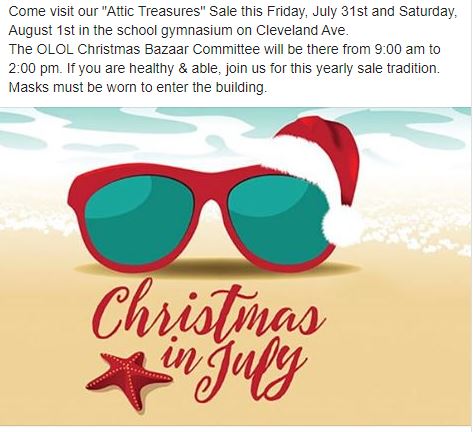 Please note that the pilgrimage to Lourdes and Fatima has been cancelled due to Covid-19. The Committee has been able to secure full refunds.