Normal Mass times have resumed:
MASS SCHEDULE
Saturday evening at 5:00 pm.
Sunday at 7:30, 9:00, 10:30 and 12 noon.
Weekdays
Monday: 7:00 pm Mass with Miraculous Medal Novena
Tuesday through Saturday: 7:00 am
The Rectory will be closed on Fridays for the summer. We will be open Monday thru Thursday.
UPDATE *** April 2022
Mass will be celebrated at noon Monday through Friday in the Church. There will be a communion service should a priest be unavailable.

The Holy Rosary is prayed weekly after the Saturday 7:00 am Mass with Devotions to Mary. You are welcome to pray with us.
The daily expenses of the parish still continue to accumulate. Please consider donating online by following this link: Online Giving
You may also stream Mass here.
Confession Times
SATURDAY:
11:30 AM - 12:00 NOON
SATURDAY:
After 5:00 PM Mass

Announcements
* Save The Date


OLOL's 100 years with Jesus and Mary Mass and Reception: On Sunday, Oct. 30, 2022, OLOL will complete its celebration of our 100th Anniversary with a mass at noon with Bishop Checchio as the presider. After the mass, in OLOL's school gym, there will be a display of memorabilia from OLOL's history and light refreshments.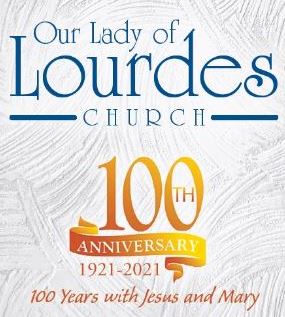 * A commemorative book celebrating Our Lady of Lourdes 100th Anniversary is being created! This book will include the church history, historic photos, current photos, feature our church groups and celebratory events. This book is being published through Entourage Yearbooks. It will be a soft cover, full color, 8.5 by 11 inches book, approximately 76 pages in length. The commemorative book will be delivered in time for Christmas. You can purchase a copy for $15.00 each. Please see order form in bulletin.